Ultimate Guide To Colored Fortune Tree Jewelry
The fortune tree, also known as the money tree, is usually associated with good luck and fortune. If you're a certified plant parent, you might have one of these inside your house. It is an indoor plant that has a braided trunk and shiny leaves that are believed to radiate green energy and attract wealth.
Others believe that money or wealth is trapped inside the plant's braided trunk, which can grow and produce prosperity. It is also famous for only having five leaves from each lush that symbolizes the world's five elements, such as the wind, water, earth, fire, and metal.
Why is it Called a Fortune Tree?
Aside from it is called the fortune tree because of its symbolism, there is also a legend of how the name fortune tree was known. The legend says that once there was a man struggling with money, he prayed to be wealthy. After praying, he then found a unique plant growing on his field. He believed that the plant was a gift from the god, which he cultivated and produce more of them. He then re-told his miraculous story to his neighbors and got to do a business out of it.
Making Fortune Out of the Fortune Tree
The legend says that the man started to do his own business out of the fortune tree; likewise, some business owners of today's time are making jewelry inspired by the fortune tree. They believe that if you wear these colorful fortune tree jewelry, you will also be wearing a great fortune ahead.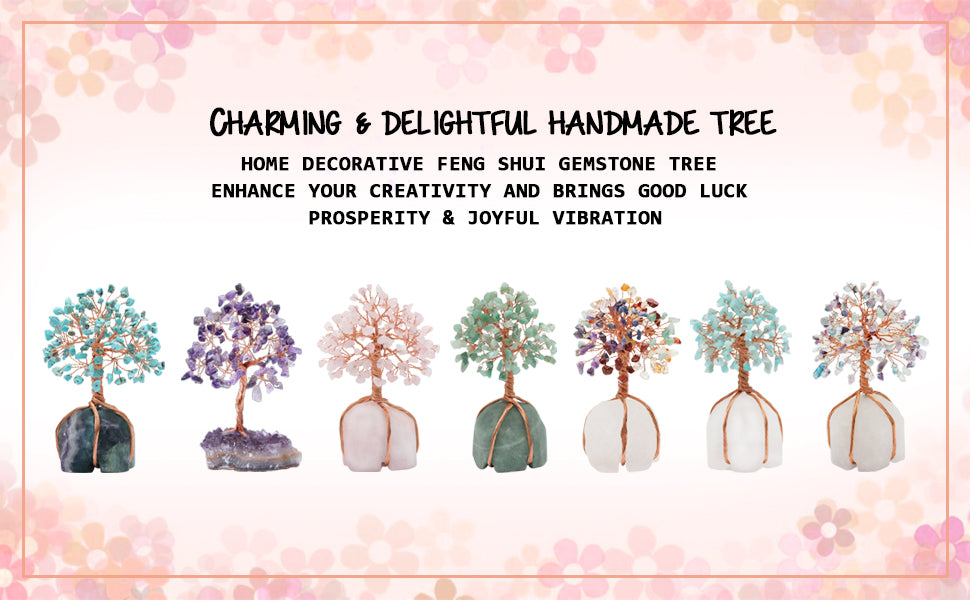 Fortune tree jewelry is mostly associated with the life tree or an ancient symbol that carries various meanings among different cultures. This life tree is like the fortune tree that symbolizes abundance, growth, and prosperity. Most jewelry from bracelets, rings, necklaces, and earrings are inspired by these two legendary trees that are dominating the jewelry industry.
However, it is usually quite expensive because of its popularity, especially those that are made with real gold. But, what if you can make your own lucky fortune tree necklace without spending much money? There are many ways for you to make your fortune tree-inspired DIY necklaces, such as using dry clay and stainless wires. Bring out your artistic side and try these inspiring DIY Necklace tutorials!
Using Air Dry Clay
Air-dry clay is one medium that you can use to make your fortune tree-inspired necklace. This type of clay usually hardens within 24 hours, so it is perfect for making your DIY necklace.
Materials:
White air-dry clay
Carving tools
Rolling pin
Air-dry clay gloss varnish
Acrylic Paints
Necklace chain
Step 1:
Get your air-dry clay and roll it with a rolling pin, or if you don't have a rolling pin, you can use a glass bottle with a smooth surface. Flatten the clay until you are satisfied with the thickness of your pendant.
Step 2:
Cut a circle from the clay and start carving your fortune tree.
Step 3:
Once you're done with the carving, you can paint it with acrylic paint. Use bright and variety of colors for the leaves and the background.
Step 4:
Let the paint dry and spray some of the gloss varnishes to preserve the color and make it waterproof. The gloss varnish can also make the jewelry presentable because of its glossy finish.
Using Stainless Wires
If you're not fond of carving and using clay, you can try making your fortune tree necklace using wires and colorful beads.
Materials:
You can buy some of those jewelry-grade wires if you want your project to look stunning. Depending on the size you want for your necklace, you will have to buy extra inches of wires.
Non-toxic metal wires (10ft of 24 gauge wire)
Colorful beads
round nose pliers
flat nose pliers
wire cutters
round object
Step 1:
Cut the wires for the desired length depending on how big you want for the base of your necklace. Then get your round object, either a tube or something that you can use to make a circle out of your wire.
Use your pliers to bend the wire to make a circle. Keep the two sides of the wire close and bend them at the center part of your wire to make a small chain. This will serve as the holder for the chain.
Step 2:
 Now that you're done with the base of your necklace, it's time to work on the roots of the trees. You can cut several pieces of the wires to make the roots. Once you've cut the wires, wrap them around the bottom part of the circular base one by one.
Step 3:
Once you have wrapped the wires on the base, bend them over and twist the wires together. Make sure to twist them nicely to achieve your desired outcome.
Step 4:
Now that you have the trunk, you can work on the branches. Separate the excess wires of the twisted trunk making eight wires. Twist the wires by two to make four branches.
Step 5:
Once twisted, you can now insert the beads on the excess wires of the branches. Be creative and make it colorful.
Step 6: When you're satisfied with what you've done with the beads, lock the wires by wrapping each of the wires to the base circle. Then, cut the excess wires once you're sure about the placement of the branches and leaves of your fortune tree necklace. You can now proudly wear your fortune tree-inspired necklace!
Once you have mastered making these fortune tree necklaces, you can start your small business to bring you an absolute fortune. You can also try out other mediums like resin or polymer clay for your next DIY project. You can also look for other inspiration when making your necklace on some of the famous sites.
Fortunes brought by fortune tree might just be some of the ancient beliefs and legends. Still, there is absolutely no harm in believing in these superstitions and make them happen. What if it's real, right?